BioVU is Vanderbilt's collection, or "bank," of de-identified DNA samples. DNA is found in all of your cells and is what carries information from parents to children. Specific sections of DNA, called genes, control certain traits (like eye color) or may be involved in certain diseases. Researchers are using these samples to study the links between genes and disease and between genes and how a patient might respond to a prescribed medication.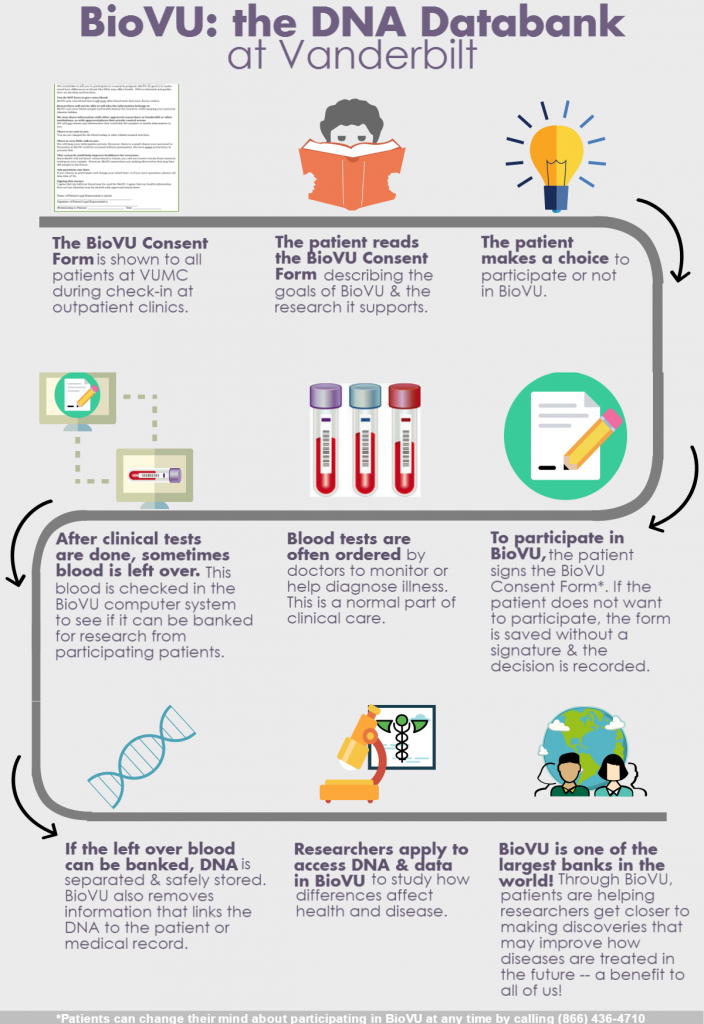 During routine patient care, doctors may order tests that monitor or help them treat the patient. These tests require a sample, like blood. Often, portions of the samples are leftover and thrown away. BioVU is a program that "banks" DNA and other portions of samples to help researchers discover links between genes and disease. Patients have a choice to donate any leftover samples to BioVU by signing the BioVU consent form during check-in at a VUMC outpatient clinic. And patients can change their decision at any time by calling 866-436-4710. 
BioVU collects about 500 DNA samples per week totaling over 250,000 DNA samples in BioVU in the winter of 2018! This makes BioVU one of the largest EHR-based biobanks in the world at a single center! Learn more about our 200+ ongoing projects using BioVU. BioVU is a novel research tool for Vanderbilt researchers and colleagues.
Although the DNA comes from patients, there is no way to determine who they are from their DNA. Each DNA sample collected for BioVU is de-identified and the BioVU program takes patient privacy very seriously. BioVU gives each blood sample a special code. This code matches the DNA to a copy of a patient's medical record that cannot be linked back to the patient, making it "de-identified." Any information such as name, medical record numbers, and dates (like your birth date) is removed or de-identified. We also get rid of some samples at random. That way, no one can know whose DNA is in BioVU.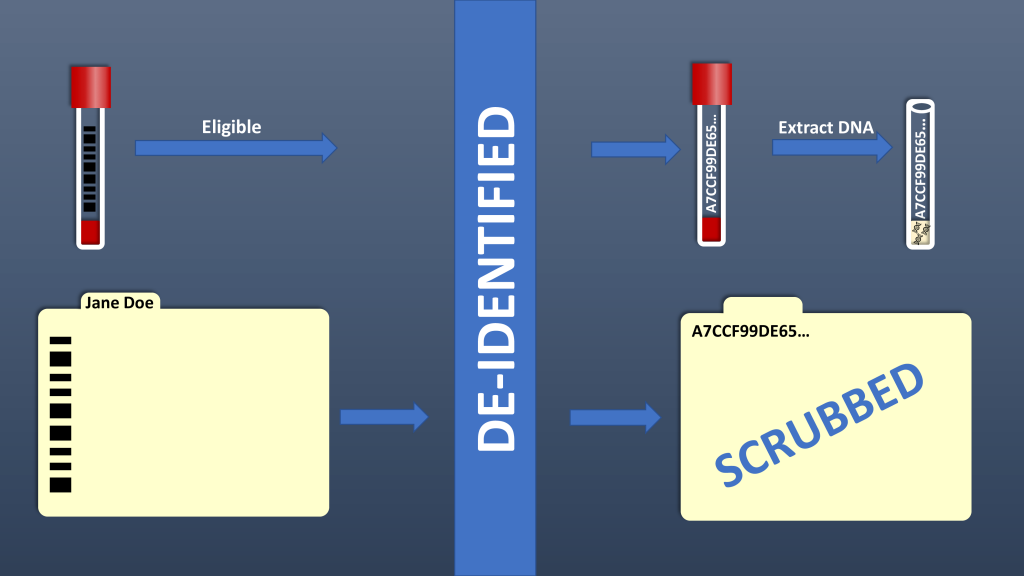 Patients have the opportunity to not have their DNA saved for research and they can choose to not sign the BioVU consent form. More questions about BioVU can be found in under the BioVU FAQ section.